Vanessa Nygaard, Skylar Diggins-Smith and the command structure of the Phoenix Mercury — More Mercury discussion — Must-click women's basketball links
The IX: Basketball Wednesday with Howard Megdal, July 6, 2022
Happy Basketball Wednesday to you. Let's stipulate that things wouldn't be normal around the Phoenix Mercury this season no matter what. The tragedy of Brittney Griner, detained unlawfully in Russia, would guarantee that.
Continue reading with a subscription to The IX
Get unlimited access to our exclusive coverage of a varitety of women's sports, including our premium newsletter by subscribing today!
Join today
Already a member? Login
But let's also stipulate that even if Griner were here, things would have gone seriously off the rails. I don't know how else to process what has happened over the past several weeks.
The Tina Charles departure? Not all that shocking in context. Even the verbal altercation between Diana Taurasi and Skylar Diggins-Smith, that was followed by Diggins-Smith spending several games away from the team, all felt like a natural outgrowth of Taurasi's outsized say in how the Mercury make decisions.
But that Nygaard would commit a deeply unforced error like this, essentially slighting her best player by omission to mollify Taurasi, was shocking enough.
As one WNBA coach put it to me, "I would have never excluded Sky from the All-Star talk…would have ended with how happy we were for Sky, she is going to represent the Mercury and we're excited for her. Then I would have promoted the All-Star game."
Diggins-Smith noticed. The response of Diggins-Smith reflected both a deep disrespect of her coach and one of two options: either a desire to get out of town herself, or an understanding that her coach would bow to this massive, public disrespect.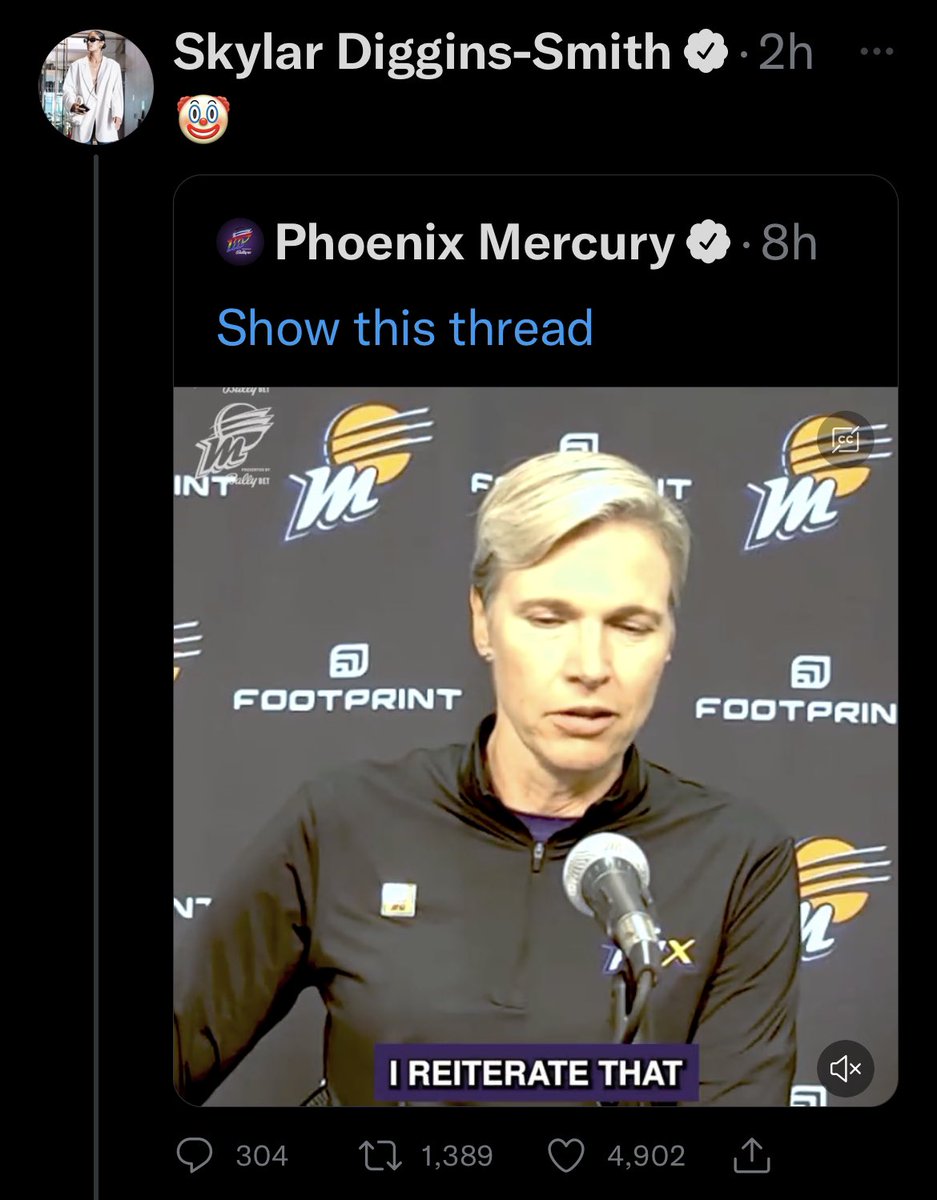 There were plenty of reactions around the league immediately following the tweet, and I figured we'd see the usual walkback — an effort to blame the media for misinterpreting, say, or claims of a hack. But SDS didn't take it down, liked some responses that approvingly read it as a shot at Nygaard, and more to the point, Nygaard herself understood what the intent was.
How do we know this? Because Nygaard publicly apologized to SDS the next day!
The level of shock around the league mirrored my own.
"On our team, that's a fine," another GM said. "Can never criticize a teammate or coach or the organization in public. Those are things handled in-house."
To a certain extent, this could have ramifications for Diggins-Smith, who has asked out of one organization, worn out her welcome with another, and has left many others around the league wary of adding her. And Phoenix is shopping her, multiple teams confirmed to me.
Still, Diggins-Smith is an otherworldly talent. She's probably in the running for MVP this season if not for… all that stuff I just wrote above. That someone somewhere will give her a chance to prove the limitations of her teams have come not from SDS, but from a Dallas franchise that has struggled to find its footing since relocating from Tulsa and a Phoenix team that has lived the word disarray, is a virtual certainty. Los Angeles, for instance, clearly isn't sold on Chennedy Carter as its lead guard of the future. (The LA conversation is for a whole other newsletter.)
But Vanessa Nygaard? Near as I can tell, she's just signed over any chance of a WNBA coaching future. An organization that makes decisions like jettisoning Sandy Brondello on the heels of a WNBA finals appearance could do anything, I suppose, and maybe Nygaard returns to a roster next season that features Taurasi but not Diggins-Smith.
That Phoenix not only axed Brondello, but brought in a "pretty green" (per another WNBA GM) leader in Nygaard reflects a fundamental misunderstanding of what that team needed. Yes, a rookie head coach is excelling in Atlanta in Tanisha Wright. But Atlanta set Wright up for success, from a roster built to buy into her system to a general manager and ownership group looking long-term.
What exactly is your vision when you have a rookie head coach bossed around by a 40-year-old veteran who doesn't play much defense at all? What exactly does it mean when your coach disdains her in-prime superstar for that veteran?
"You can't let your best player hold you hostage, but you've got to be smart enough to know the future of the franchise," one WNBA coach told me.
That future, it is now clear, is rudderless.
---
---
The Next, a 24/7/365 women's basketball newsroom
The Next: A basketball newsroom brought to you by The IX. 24/7/365 women's basketball coverage, written, edited and photographed by our young, diverse staff, dedicated to breaking news, analysis, historical deep dives and projections about the game we love.
Subscribe to make sure this vital work, creating a pipeline of young, diverse media professionals to write, edit and photograph the great game, continues and grows. Subscriptions include some exclusive content, but the reason for subscriptions is a simple one: making sure our writers and editors creating 24/7/365 women's basketball coverage get paid to do it.
---
This week in women's basketball
Jackie Powell declares the biggest All Star snubs.
Ari Chambers is highlighting some of the lesser-known WNBA players.
There are so many Title IX heroes.
Maitreyi Anantharaman gets you caught up on all things clown.
Adia Barnes adds a new assistant.
Terrific Kevin Pelton piece on Sue Bird's trainer.
Lisa Fortier joined Locked on Zags this week.
Charlotte Carroll's WNBA fashion piece is so good, I'll link to it even with cat slander in it.
And Alexa Philippou is must-read as always.
---
Five at The IX: More Mercury talk with Hayden Cilley
My rookie Mercury reporter at The Next has been through a lot already, and we're only pulling up to the All Star break! Hear from Hayden, who has been in the room for these pressers, about what is going on in Phoenix.
---